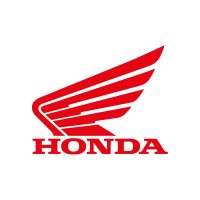 Celebrating our 75th Anniversary in 2023, Honda is the largest Motorcycle supplier in the UK. It all started with the D-Type motorcycle, affectionately known as "The Dream". This was our first motorised mass production vehicle and it hit the streets of Japan in the late 1940s.
Now, 75 years later we are proud to offer the UK the widest range of motorcycles available today.
Whatever sector you choose to follow, we have a motorcycle for you. Starting with Adventure category bikes with our class leading CRF1100L Africa Twin, born directly from the Dakar itself. Custom models from the Rebel 1100 and Rebel 500 that not only make access to motorcycling easier as a beginner but now gives you the option to grow within this class.
Off-Road machinery that won major championships in 3 continents in 2023 with the CRF-R range. Street bikes that really do make a buzz on our stand every year with the growing popularity of the Hornet.
Our Supersport models that take their design and technology directly from racing series around the world and put that technology and experience in a road going package for you to experience. Scooters and small capacity motorcycles have a strong representation within Honda, from the humble Vision 110 to the fantastic X-ADV dual purpose scooter.
And finally, we have our touring machines, the NT1100 brings limitless touring options to the masses whilst our flagship model, the Gold Wing remains in a class of its own, the ultimate tourer and testament to what can be achieved on a motorcycle.
We look forward to welcoming you on to the Honda Stand during this year's Motorcycle live.
For the very latest from the world of Honda, be sure to follow us via Facebook, X, Instagram, YouTube
See you at the show!
---
See all the latest offerings from your favourite manufacturers below