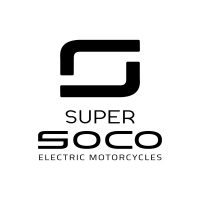 Manufacturer
Super Soco Electric Motorcycles
We are Super Soco, the forward-thinking champions of electrified urban mobility!
Leading the charge and dominating the electric market, our range of award-winning motorcycles and scooters delivers environmentally friendly transportation that's accessible and affordable to all. We're changing the way we get around, providing zero-emission vehicles that open a world of possibilities and independence to the city commuter or daily rider.
Our vehicles are quicker, better value and more flexible to use than petrol alternatives or public transport. They're cheaper to own, run and park than a car, and easier to live with too.
From the TC Max, with its heritage motorcycle styling and modern performance, to the CPx maxi scooter, with proven robustness and reliability in the hands of delivery riders; Super Soco can make your journey more fun and emission free without compromise or unnecessary expense.
We're committed to making environmentally aware travel the norm, and our vehicle range is infrastructure ready; featuring fully removable lithium-ion batteries that can be charged in just 3-4 hours from any standard 3-pin UK plug – they're perfect for the 40% of UK households that don't have off street parking!
The transport sector accounts for 25% of all greenhouse emissions globally and is a leading contributor to the devastating impact on global climate stability. Coupled with the UK's cities introducing ever-stringent regulations in the form of Low Emission Zones to help clean up the air in our urban areas, now is the perfect time to consider the move to electric.
With Super Soco, the next generation of urban transport is already here, so join us in changing the world for the better, one journey at a time!
---
See all the latest offerings from your favourite manufacturers below