Exhibiting Information
Sponsor / Partner Opportunities
Motorcycle Live is the largest and most prestigious consumer bike show in the UK and represents a unique opportunity to reach a passionate and enthused audience. Below you will find an example selection of opportunities available.
We are able to offered custom opportunities to meet your requirements. Contact Gina Evans on g.evans@mcia.co.uk to discuss your requirements.
WEBSITE ADVERTISING



A leader-board advert on all non-exhibitor pages
729K recorded page views from 1st July to 31st Dec 2022 (many more will have visited and not been recorded)
Average time on site 2 minutes 19 seconds
On rotation with up to 4 other companies
£2,200 + VAT  (+50% for non-exhibitors)

BLACKHORSE STAGE ADVERTISING
Information and prices coming soon.
BAR AND CATERING AREA SPONSORSHIP
This opportunity gives a partner many chances to interact with show visitors, such as aerial banners, branding, leaflets, deckchairs, umbrellas, beer mats, plastic cups or napkins—the opportunities are endless! Visitors spend a longer time in this area so the space offers the chance to show video content or interactive screens to a receptive audience.
Branding opportunities include:
Bar branding & naming rights to the area (either Hall 2 or Hall 4)
Choice of carpet colour
Branded beer mats
15m2 banner above the area
The bar area will also be promoted across Motorcycle Live social channels, website, news stories and newsletters.
Additional branded items can be provided for the area if required.
Located in halls 2 and 4 these two well established bars / seating areas offer visitors a place to take a break and enjoy a drink.


ENTRANCE BRANDING
Entrance branding offers a unique opportunity to reach tens of thousands of visitors as they both enter, and leave the show.
Impactful as a single entrance, and unforgettable in multiples.
Large, striking imagery
Impactful / informative
20 seconds of advertising on digital screen
7m x 2.5m x 1m walls either side of entrance
One entrance turn-style – position variable to maximise exposure
Complete:   £6,720.00 + VAT
All costs +50% for non-exhibitors
Artwork to be provided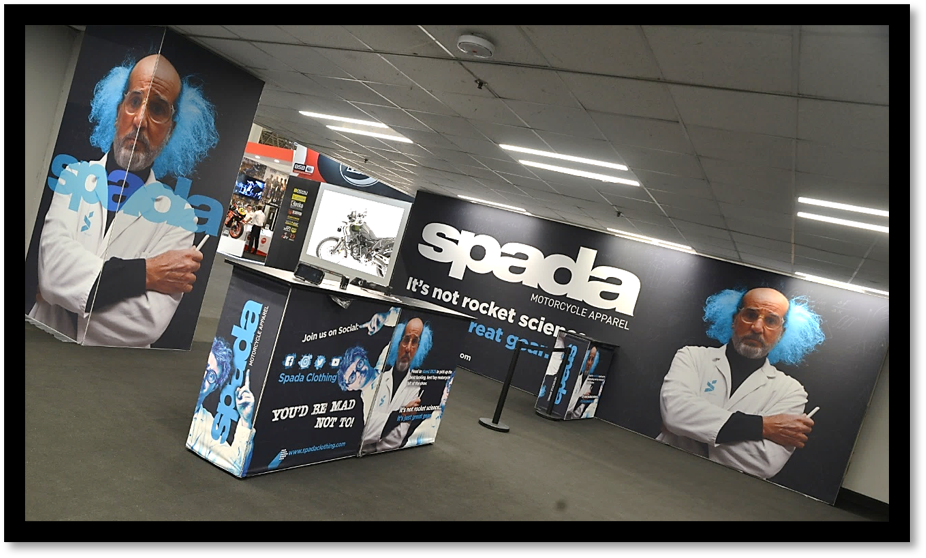 HIGH LEVEL BANNERS
Banners can be rigged (sensitively) throughout the show.  With a maximum width of 12m and depth up to 4m, banners have huge stand out to create:
Informative
Impactful
Prominent
Directional
Graphics promoting your message/brand.
Prices upon application – inclusive of rigging and printing of supplied artwork.
NEC Media Opportunities can be viewed here: MEDIA PACK 2023
If you have specific ideas as to how you would like to enhance your brand at the show, or you're interested in the above opportunities, please contact g.evans@mcia.co.uk or call 02476 408020.